3 IDIOTS
I heard of this movie when it came out and I kept planning to see it but didn't. I finally watched it recently and it is so different from what I expected.
From the title, I thought it was going to be a full on comedy about the lives of three bumbling fools and their missteps. It was a funny movie no doubt, but it was so much more than that. It follows two friends as they take a trip across India and through time (through recollections not a time machine) in their search for a dear old friend. We go back ten years to see these three buddies try to navigate through life at university, spearheaded by the free spirited Rancho. Their friendship with Rancho takes them through highs, lows, laughter, tears and often gets them in trouble with their mean teacher fondly referred to as Virus. I recommend this movie. It is definitely the best Bollywood film I have seen. It is quite long though- about three hours, but time does fly by when you watch it, unless you are watching it on a stolen computer in the middle of a high speed car chase.
SN: I found it funny that Pia Sahastrabudhhe made fun of the surname Chancad and was vehement she would never change her surname to that. Maybe it means something funny in Hindi, but just by looking at the surnames I'd say Chancad is not bad at all, especially is your surname is Sahastrabudhhe.
God Shaped Hole by Tiffanie DeBartolo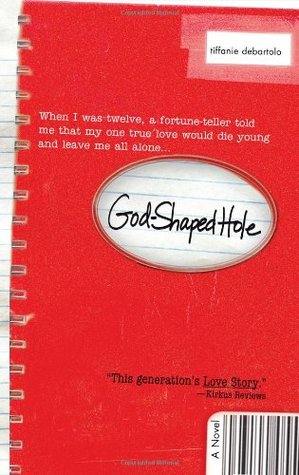 I heard about this book on twitter. The people who tweeted about it declared it the most romantic book they had ever read. They went on to gush about the love between the characters and how beautiful it was. Now I am a complete romantic, I have seen The Notebook twice.  I immediately googled the book and the reviews were all great.
Here are some reviews from goodreads:
What can I say about this book? It kept me up all night reading. It made me think. It made me re-evaluate my own life. It moved me. It destroyed me.
This book blew my mind. I am not even sure how to express how much this book tore me apart. It fucked my world up let me put it like that.
I don't even know where to begin. My mind is reeling and my heart is still aching… I feel raw… Stripped…
How could I not want to read the book after these reactions? I was so sure I was about to read the 8th wonder of the world. I went on Amazon and placed an order for the book. That was my first time ever purchasing something online. I waited impatiently for about a month and when the book arrived I was overjoyed.
The book started out interestingly enough. I waited patiently for it to get wonderful and gripping, for me to fall under the spell of this magical book everyone was raving about. Brethren I did not like the book at all. I hated the characters and I didn't find their love aww worthy. I thought the characters and their love were quite contrived. I don't remember much about the book, I remember the beginning and the end. I remember feeling disappointed as I read it. I remember thinking "is this it?"
Now maybe I had overhyped the book and set it up for failure. Perhaps there was no way it would lived up to the sky high expectations I had set for it. Maybe there is something I need to have experienced before reading the book so I can relate more to it. All those people who gave the book 5 stars could not be wrong now could they?
I do like the quotes from the book that are on Goodreads. If it was a book of quotes, it would have been awesome. Maybe I should it give it a second chance and read it again in the future.
I read it once and for now that is enough.
Fast and Furious 7
Dun dun dun!
Like most people, I was excited to see the new Fast and Furious movie. I liked the last two movies so I was looking forward to yet another few hours of comedy and action. Added to the thrill of the new movie was the emotion involved in seeing Paul Walker in his last film role. The lights went off in the theatre and I ate my crepes happily and waited for the fun to start. The film started well enough, the first thirty minutes or so were decent and then my friends, it was downhill from there. Actually keeping in line with the movie I should say it went "in reverse and raced backwards off a mountain, smashing into jagged rocks."
What didn't I like about the movie? For one it was the same ol' boring routine. The fights scenes were not interesting because there were a number of them in the film and of course Vin Diesel is going to win the fights. Kick kick, punch punch, somersault, get hit in the head, get thrown through glass, emerge unscathed ready to fight the next opponent. Yawn.
It was also so unrealistic. I know this is a movie, an action movie at that, reality means something else in action movie world. But by God, Vin Diesel, cars do not fly! Nope. They also do not bungee jump. I thought Vin Diesel jumping in the sky to catch Letty in the last film was unrealistic but that was pretty tame compared to the stunts I had to endure in this film. Add the corny, cheesy lines and I was done.
An hour in, I started thinking of all the other movies I could have seen instead. Best Exotic Marigold Hotel 2 was showing, why did I not spend my money on that? Kunle Afolayan had a film showing too, I could have seen that. Hell I would have preferred to sit through the umpteenth Cinderella movie (we have enough Cinderella movies guys!).
Needless to say, if there is a Fast and Furious 8, I will sit my pert behind at home and wait for it start showing on cable.
The scenes with Paul Walker were a bit weird to watch though. This conversation between he and Tyrese was eerie.
Tyrese: I don't want to go to another funeral
Paul: There's just one funeral left.
Rest in Peace Paul Walker. We love you!